Does the fashion industry discriminate against plus-size models?
Not so long ago, only slim and therefore socially acceptable bodies were shown in the media. Over the past five years, the body-positivity movement has gone from strength to strength. In 2012, the hashtag #bodypositivity began to be used, mostly on profiles run by curvy ethnic minority women who wrote that they love their bodies as they are. The action quickly gained momentum on groups, on Tumblr and Facebook, and then thanks to plus-size bloggers on Instagram, self-acceptance went mainstream. The cult of the toxicly thin body has waned, and the fashion industry has noticed that consumer needs don't stop at size 36. While models like Ashley Graham, Precious Lee and Alva Claire walk the runways of major fashion houses, plus size models only appear in niche brands. Why is the fashion industry, so closed to the diverse canon of male beauty?
A Vogue Runway analysis found that fuller-figured models appeared on the runways of just 7 of the 77 brands presenting men's collections for the fall/winter 2022 season. None of the brands promoting diverse men's silhouettes were among the leading fashion houses. Brands that focused on diversity during the presentation of their fall-winter 2022 collections were Kidsuper, Études, Casablanca, Magliano, Kiko Kostadinov, Maison Mihara Yasuhiro and Doublet.
Casting directors are very enthusiastic about engaging plus size models. The problem, however, turns out to be the lack of appropriate sizing in luxury collections and the alleged lack of interest on the part of customers.
IMG Models CEO Ivan Bart, who brought plus-size models into his company's main division in 2014, believes the stories of successful women should set an example for men. – "It's high time for a change in men's fashion" – says.
Source: pixabay / Photo by: Garrett Naccarato
Larger sizes in collections
In the United States alone, the plus-size clothing industry is estimated to be worth $32 billion. According to Coresight's research, they make up about 21 percent of the entire women's fashion market. Men who wear larger sizes are also ready to wear luxury clothing.
"How do brands know the demand for plus size models isn't there when most haven't even given them a chance?" says Zach Miko, a plus size model working with IMG. – "Luxury brands are slower to adapt to change. Mainstream brands, supermarkets and fast fashion companies are more likely to pay attention to customer signals. Men in larger sizes no longer want to be left out" – adds Miko.
Before the pandemic, Miko worked on a Dolce campaign & Gabbana, for which the photos were taken at Lake Como. He hoped to pull more assignments for luxury brands, but COVID-19 got in the way. "A lot of companies were cutting costs trying to cope with what was happening. Novelty was dropped in the first place".
Natalie Guzman, marketing director of Savage x Fenty, says social media is helping to change attitudes towards the male body. "If you listen to what ordinary people are saying, you'll notice that men's fashion needs more diversity".
In 2020, Rihanna's Savage x Fenty brand hired plus size model Steven G (Green) for a men's underwear campaign. The photo quickly circulated the web and the underwear collection sold out in less than 12 hours. Working for Savage x Fenty was the first job Green accepted as a model. Since then, he has worked with brands: Nike, Adidas, Lululemon and Ralph Lauren Polo.
Why plus size men go unnoticed?
A first step toward progress may be to increase the size of the clothes being sold. Charlie Clark-Perry, the agent representing model James Corbin, recalls a phone conversation with a representative of a major luxury fashion house (he doesn't reveal the name) who, after a fitting, asked for another plus-size model because "the clothes were too tight". He replied: "If the samples are too tight, it means you don't sew plus size clothes". Clark-Perry no longer sends models to a casting call before making sure the designs they're about to wear are the right size.
Model Steven G. says it's difficult to ensure adequate representation on the catwalk if you don't offer inclusivity on store hangers. – "If you don't make XXL or XXXL clothes and they don't appear on catwalks and in campaigns, it's hard to talk about representation. Many people with larger sizes, want to wear luxury designs. They're not just looking for accessories, they want clothes too." – says.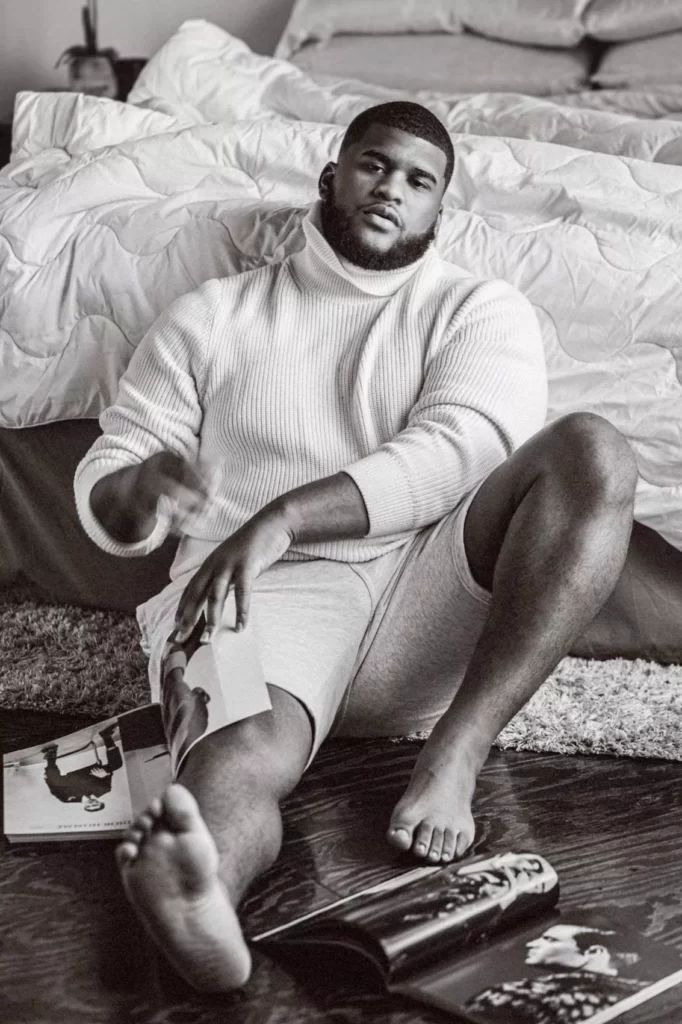 Steven G in Savage x Fenty campaign / Source: Instagram
New York casting director Ricky Michiels, who has been in charge of the Christopher John Rogers shows for two years, is optimistic. – "I have no problem finding a more inclusive set of models to appear on the runway. The most important thing is, of course, how the clothes lie on the models' bodies, regardless of their size. Bigger sizes, however, can mean higher costs and longer production times, which many brands don't want to invest in.
Now that the fashion industry has opened up to plus size models, it is time to introduce more figure diversity in men's collections. Equality cannot be treated selectively. We eagerly wait for Balenciaga, Mugler or Versace to change the attitude towards the male body and show that beauty is about diversity.