IT'S TIME TO PRESS PLAY: H&M Studio SS22 collection electrifies with the fusion of colors and prints
Press Play" collection is full of energy, which simply puts you in a good mood. The SS22 collection draws on the eccentric fashion of the 1980s. i 90. The 20th century. Strong color palette, prints and expressive accessories give free way to fashion fun, matching, combining and mixing elements.
It was inspired by the musical muses of Generation Z, whose style and personalities make them shine. "When creating the SS22 collection we had in our minds the silhouettes of musical personalities. We were inspired by their commitment and individuality visible in their clothes as well as their attitudes. The collection is all about having fun without limits, aiming to help our customers create their own optimistic looks," says Linda Wikell, Concept Designer responsible for H concept&M Studio
Key pieces exude a "see and be seen" attitude. From avant-garde lace-up jeans and loose suits, to lime-green swimsuits or camouflage bodysuits that can be worn anywhere. A denim mini skirt with studs, a mesh top with ruffles, and a little black dress trimmed with crystals recall the late '90s vibe. You could almost sing "Oops… I did it again". Meanwhile, the organic cotton T-shirt has a distinctive image of lips transformed in Pop Art style by Berlin-based illustrator Stefan Fähler.
"There's a new vibrancy in the air that makes us all want to dress in fabulous clothes again. A reminder of the va-va-voom spirit that has defined fashion since the 1980s. to the early 21st century. For the SS22 collection we wanted to bring back fashion that gives us reasons to be happy with its craziness!" – says Ann-Sofie Johansson, Creative Advisor at H&M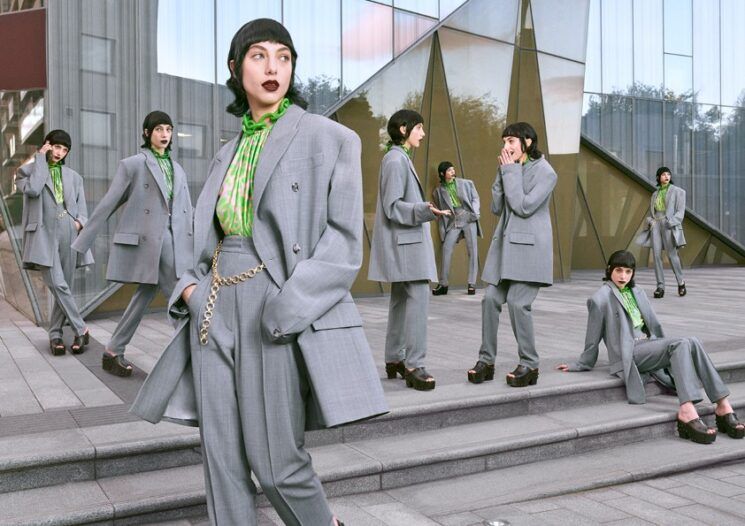 When it comes to accessories, the collection focuses on statement pieces, from green snakeskin earrings and chain necklaces to studded platform shoes and red cowboy-style boots.
Every piece in the collection is made from more sustainably sourced materials, including recycled polyester, recycled polyamide and recycled wool.
The H Collection&M Studio SS22 will be available online at hm.com from 24 february.
H campaign&M Studio SS22 was created and photographed by Reto Schmid and styled by Georgia Pendlebury. The 22-year-old Devon Ross who is the face of the campaign, a child of the Los Angeles music scene, brings a youthful dynamism and an unusual flair to the campaign that was captured in London.